A large choice of decoders
Application contains more than 600 decoders from all brands (Lenz, Roco, ESU, QSI, etc.). Decoders files are based on the JMRI XML format, thus it's compatible with DecoderPro. Your can create and add your own decoders with the Decoder file creator.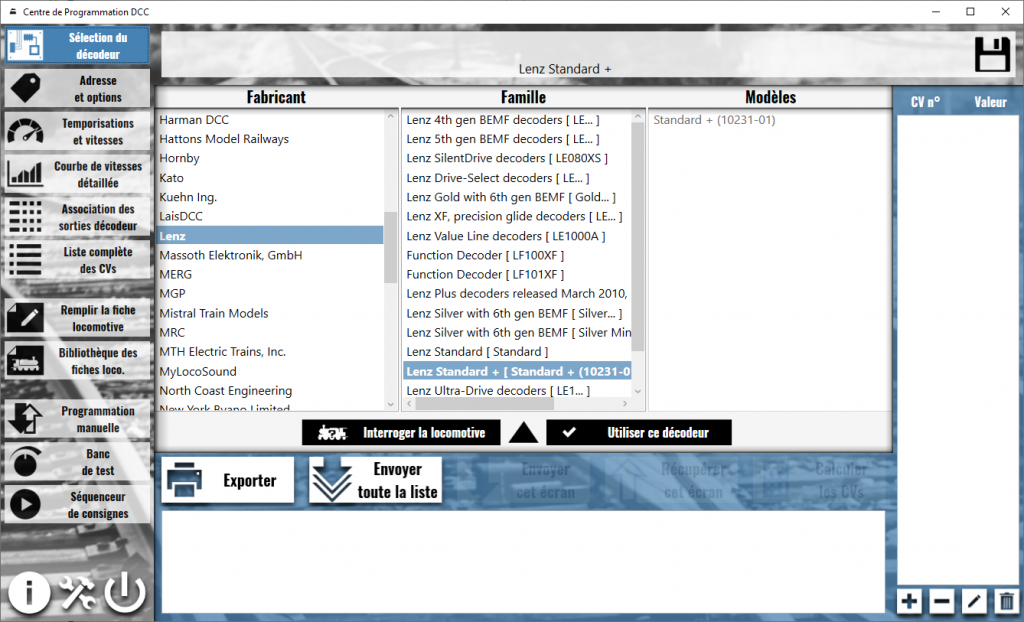 Basic configuration
Very easy way to set locomotive address (take care of short / long address CV programming). Direct standard configuration (the well-known CV29) : direction, speeds steps, etc.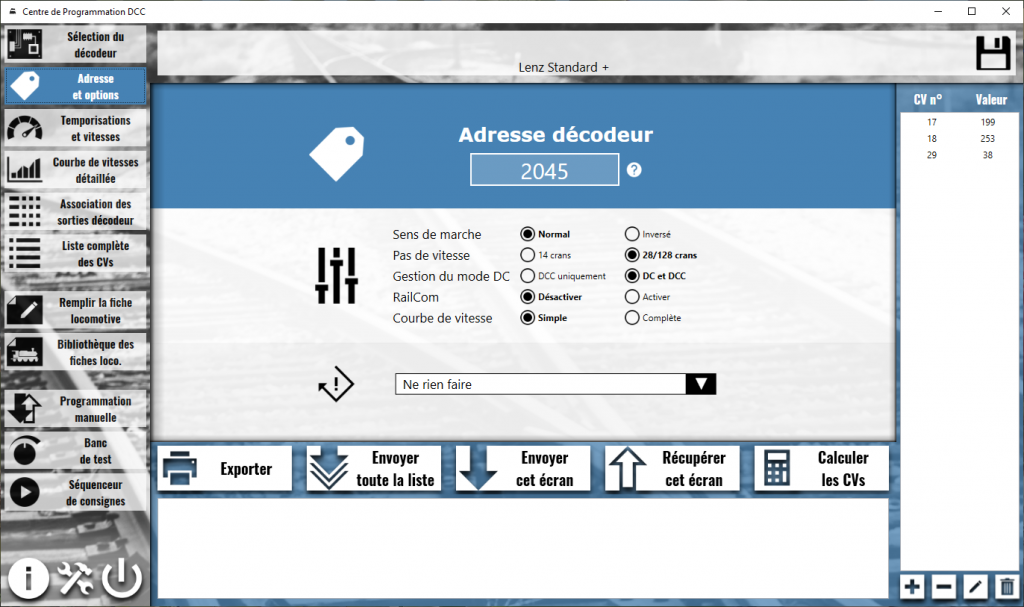 Easy acceleration and breaking configuration using sliders, with estimated delay. Basic speeds configuration (max. speed and mid. speed).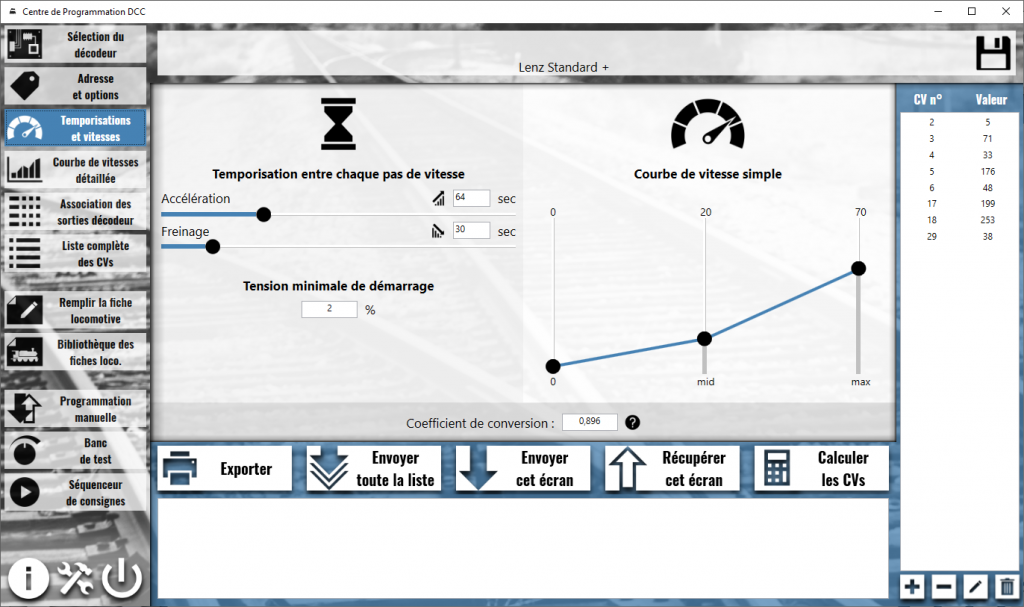 Speed curve and function mapping
For experienced users, an advanced configuration is possible.
Special graphical interface for the speed table. Most used mathematical curves available. User friendly function mapping with a checkbox grid (for instance : activate output B when I press function 3 key)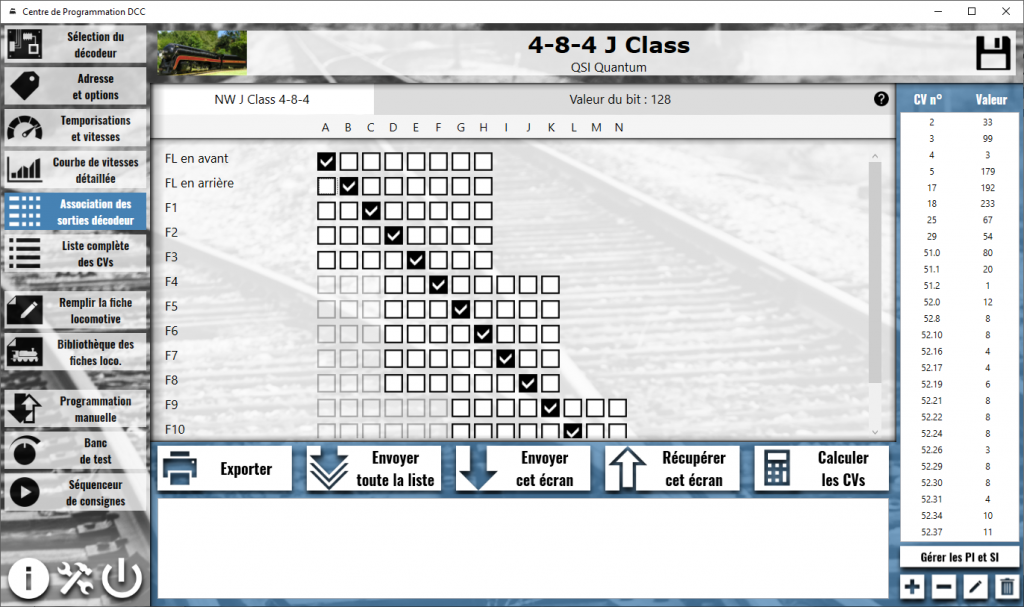 Decoder explorer
User-friendly decoder explorer to see all the available CVs. Direct read / write function. Search by name or CV address. This page is also used to perform a decoder full backup.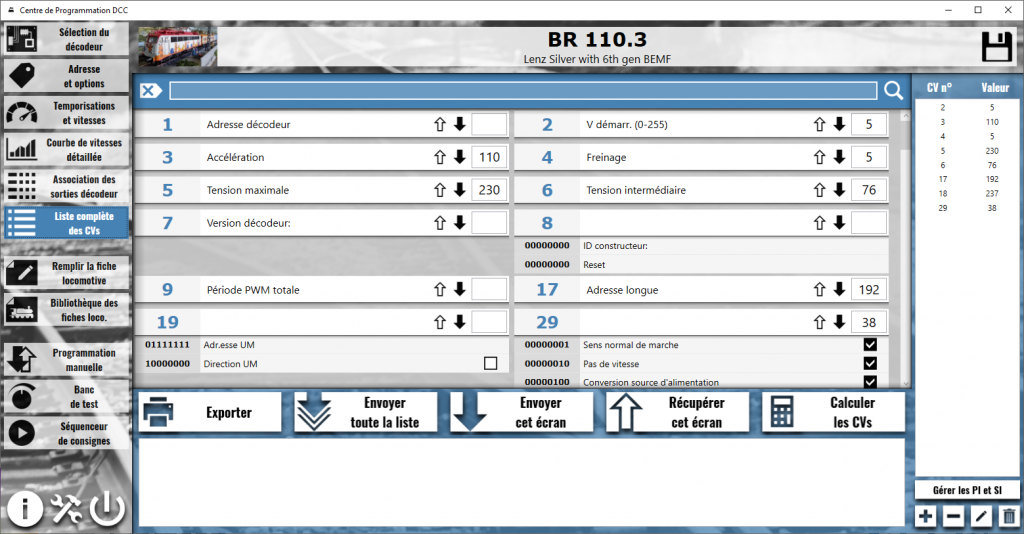 Locomotive files
Easy "locomotive file" creation, with full CV list, useful information (manufacturer, owner, epoch, engine type, etc.) and a pretty image 🙂 Locomotive files from Dcc Center are fully compatible with JMRI XML format.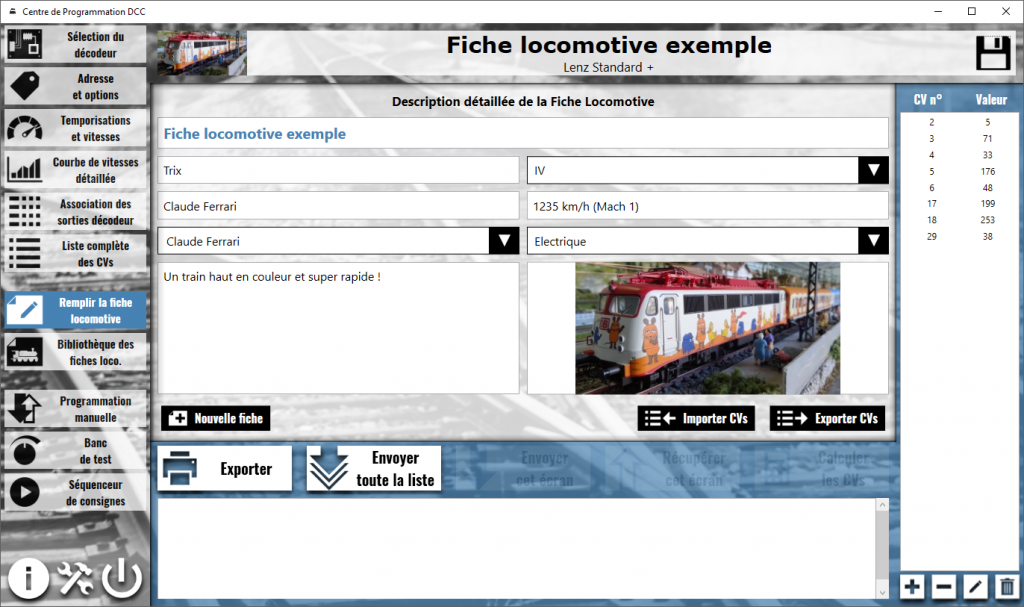 Intuitive locomotive file collection. Search by keywords or addresses. Address displayed for each locomotives.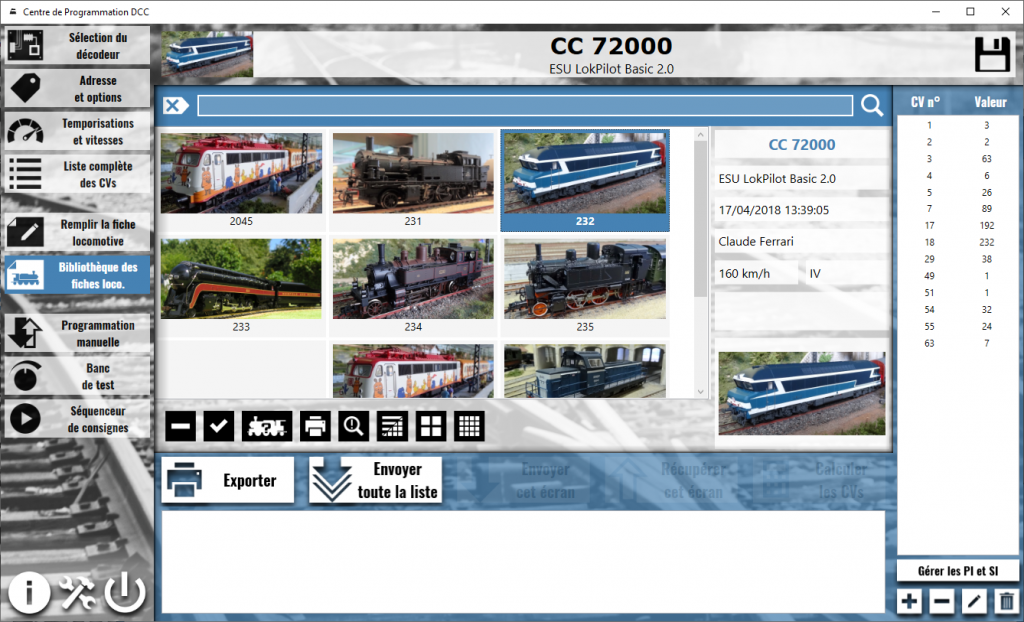 Locomotive files can be exported to PDF file, with the associated image and the whole CV configuration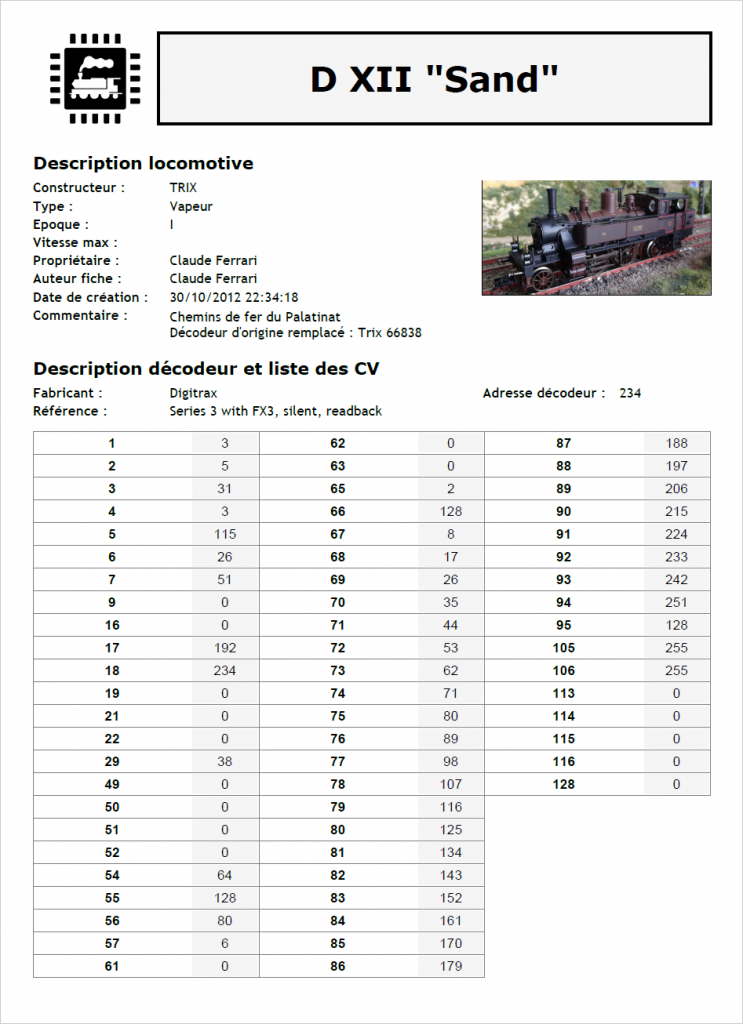 Using a SPROG device
With a SPROG device the Dcc Center is a complete solution for putting into operation new locomotives.
Easy CV programming (data download to decoder)
Quick configuration verification (no need to handle the locomotive)
Running and test sequences
More information about the SPROG in the official website
Download / Upload the CV list

Put in the decoder your configuration with only one click ! Read all the CV from a page easily.
CV manual programming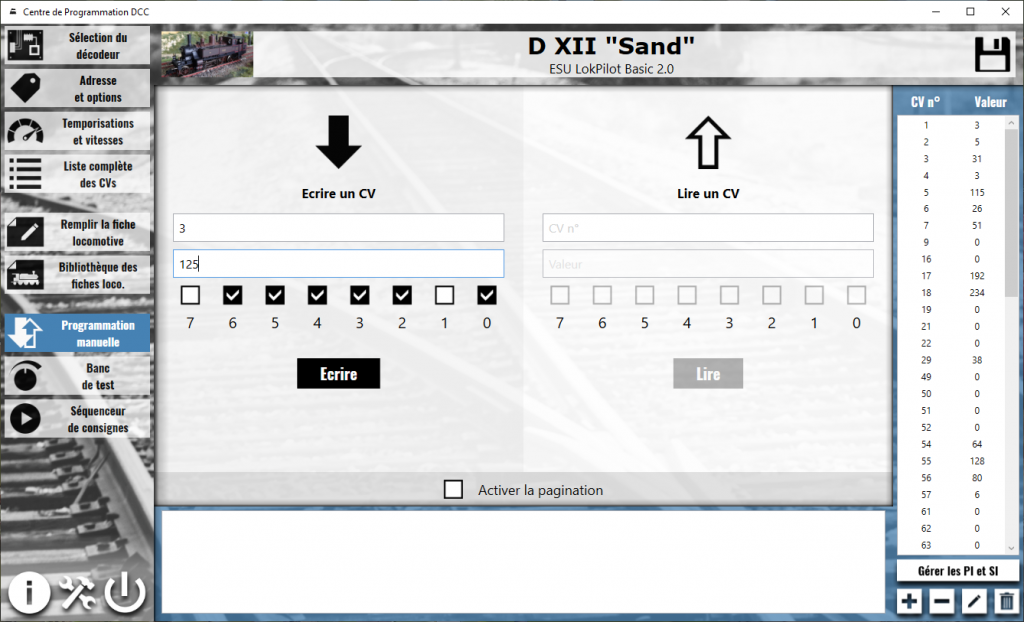 Read or write a CV. Easy bits programming for a CV.
"Test bench" page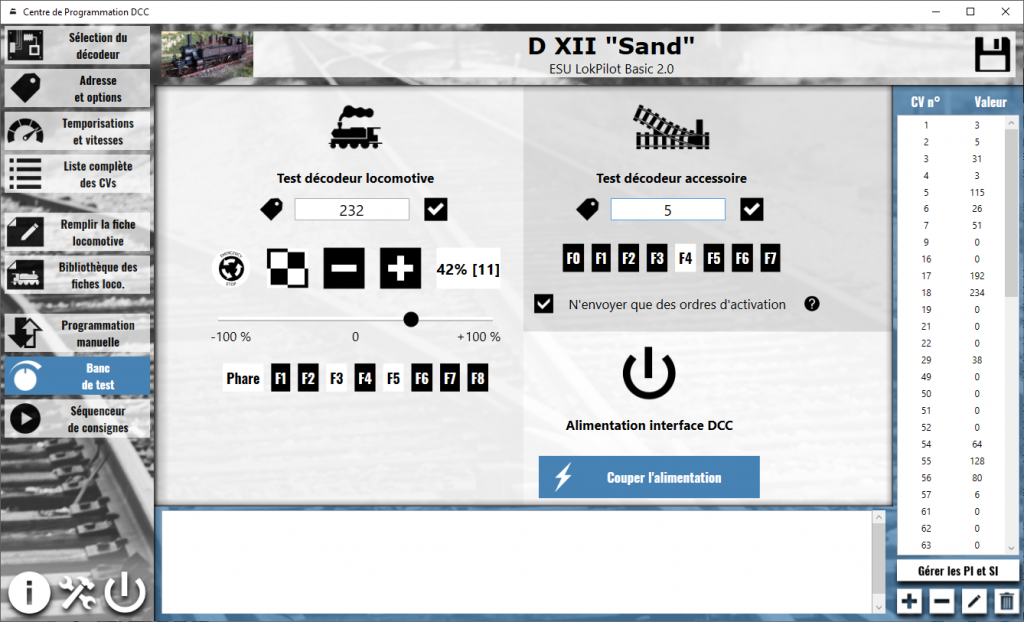 For testing the new locomotive configuration you just download ! You can also test an accessory decoder.
"Sequencer" page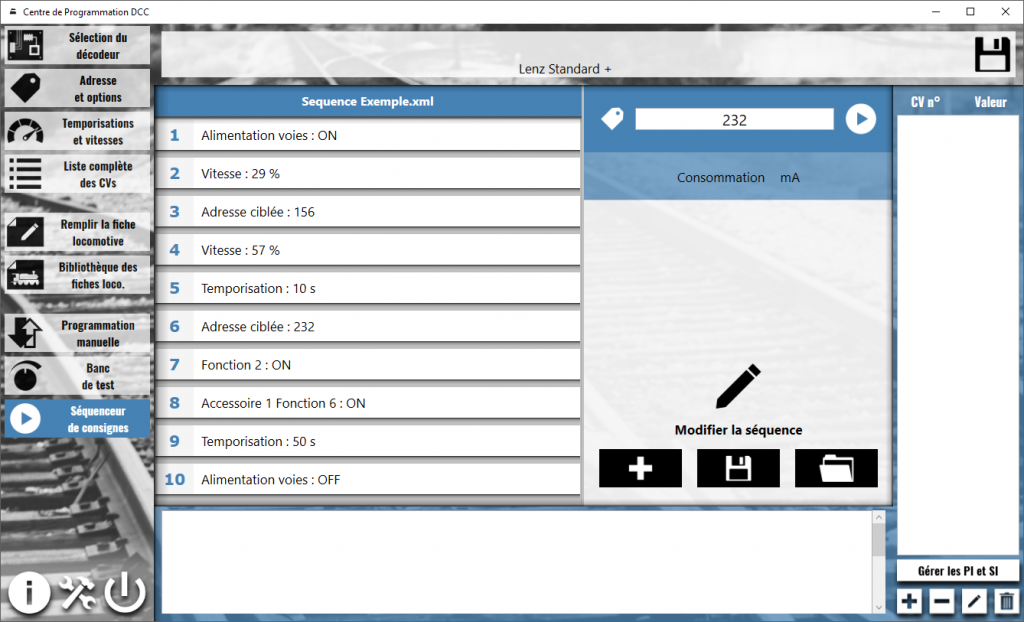 Run a new locomotive in or perform repetitive tests. Your can build your own sequence add task to execute (speed, function, delay, accessory function, etc.)
Available in English !
Screenshots are from the French version, but the Dcc Center is available in English !